Free Valiant Heat Powered Fan & Other Goodies with every Charnwood Cove, Island or C-Range Stove Purchased!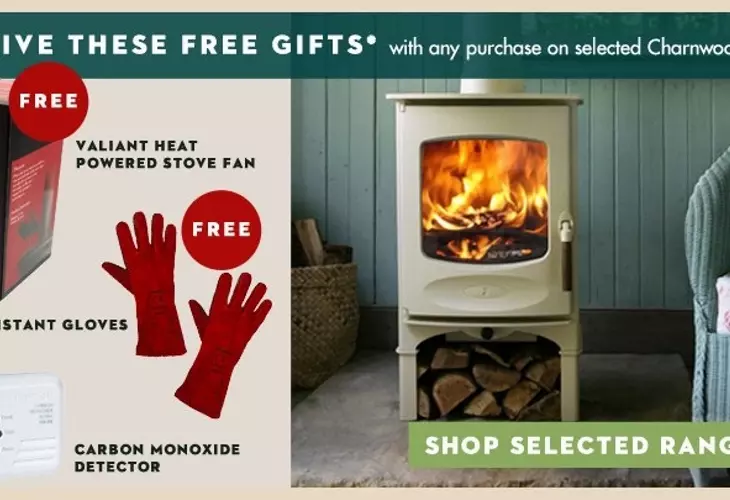 At Bradley Stoves we are giving away a selection of gifts worth over £100 with every Charnwood Cove, Charnwood Island or Charnwood C-range stove purchased!
What's on offer?
The Valiant Heat-Powered Fan is on offer when you buy one of these Charnwood stoves. The Valiant Heat-Powered Fan makes the heat from your stove circulating round the room by moving it towards the centre of the room. The fan is powered by the heat from the stove, and you will find that your stove is even more efficient as the two bladed fan reduces fuel consumption!
We are also offering a free CO Alarm (required with each new installation of a stove) and a pair of Heat Resistent Gloves when one of our Charnwood Cove, Island, or C-range stove is bought online from us.

What are Charnwood Cove stoves?

Charnwood Cove stoves are the more contemporary stove range from British firm Charnwood. With clean lines, a choice of colours, and the ability to have a freestanding option these stoves would look stunning in any setting and are built to last. Highly efficient, with multifuel options these stoves are all DEFRA exempted. Stoves range from 4kW output to 12kW with boiler options available for all stoves.

And Charnwood Island stoves?

These stoves are multifuelled, made of plate steel and cast iron, and highly efficient. The Charnwood Island stoves range from 5kW to the amazing 18kW boiler stove, that will keep most homes warm all winter! There is even an Island stove that you can cook on as it has a soapstone top. The Island range is slightly more traditional in style, but again would look good in any setting.

What about the Charnwood C-Range of stoves?

The Charnwood C-range is one of the most popular range of stoves that we sell. They are beautiful, look great in any room or setting, and are highly efficient. Again they come in a range of colours and have stoves ranging from 5kW to 8.3kW. The new C-four inset is proving particularly popular as it fits so neatly into the wall and is 80% efficient.

All Charnwood stoves give a stunning view of the fire and will make an excellent investment. Research shows that installing a woodburner adds value to a house and so buying a wood stove is an investment. Not only will you find a significant drop in your fuel bills, but you will find that the value of your property will increase, both excellent reasons to put one in!

So why not take advantage of our amazing offer and buy online today.

Comments