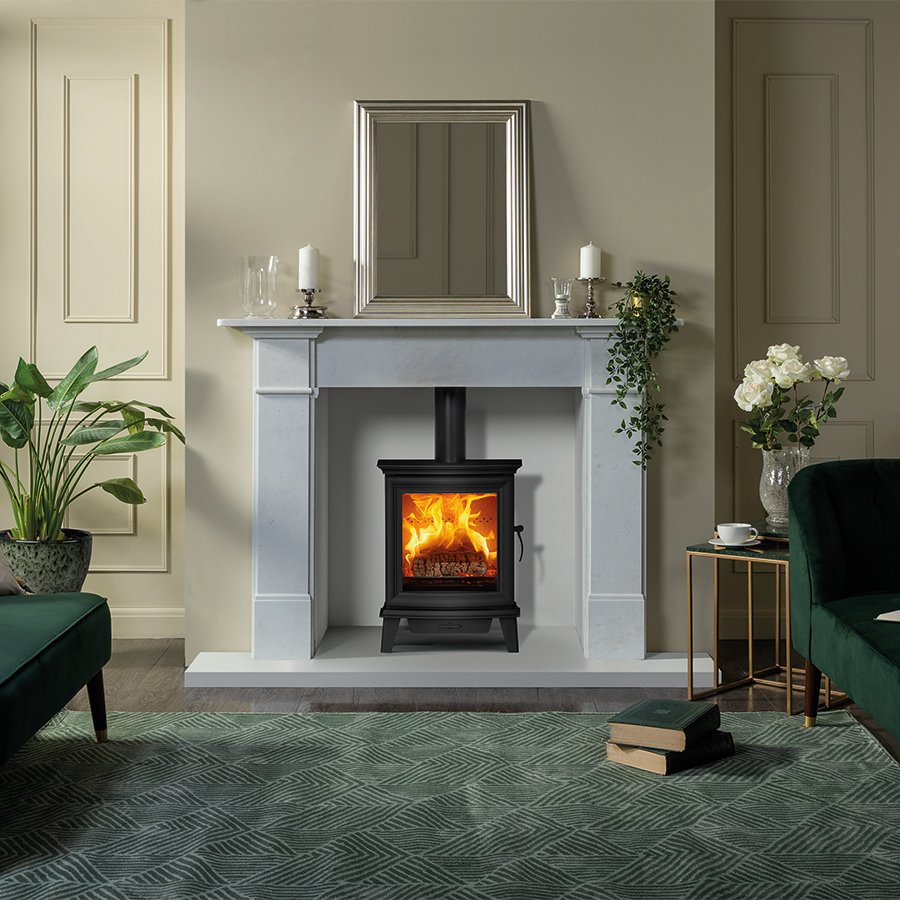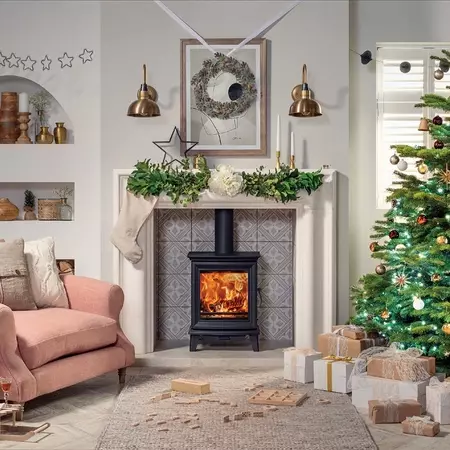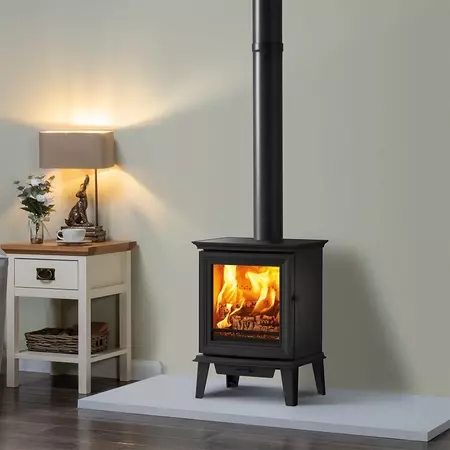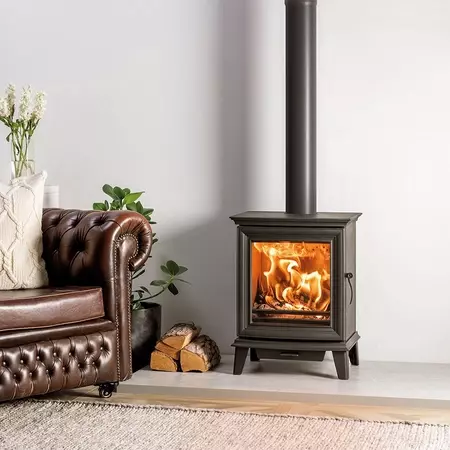 STOVAX Chesterfield 5 | Wood & Multifuel | Freestanding
705-332
Perfectly proportioned, the Chesterfield 5 wood burning and multi-fuel stove is a great fit for fireplaces or freestanding against a wall. Designed around our triple airflow combustion systems, these elegant convector stoves deliver exceptional heating performance whether you choose a dedicated wood burning or multi-fuel version. Both versions feature the range's convector design to reduce distance to combustibles and enhance heating capability.

The Chesterfield 5 has been independently verified as SIA Ecodesign Ready, meeting and exceeding Ecodesign air quality standards. Moreover, thanks to their urban area approval, these advanced stoves are exempt from DEFRA Smoke Control Areas, meaning they are suitable for your home whether you live in the town or country.

This wood burning and multi-fuel stove is available in a wider format: the Chesterfield 5 Wide.

Width

Depth

Height (Standard Legs)

Height (High Legs)

DISTANCE TO NON-COMBUSTIBLE MATERIALS

DISTANCE TO COMBUSTIBLE MATERIALS

Sides

Rear (Twin wall/Single Skin Flue)

Nominal Heat Output

Additional Features

12mm Hearth Friendly

Direct Air Kit Available

Position

Finish

Colour

Flue Exit

Emission Standards

EcoDesign Ready

DEFRA Approved

Flue Diameter

Fuel Option

Style
INSPIRE 40 | HETA

INS40

Inspire 40/40H, and the Inspire series in general, is a range of rugged multi-fuel stoves made from the best quality 5mm and 8mm steel, with a solid cast iron door, fire base and shaker grate. Inspire stoves produce 2 – 6.5 kW of heat making them ideal for a wide range of applications from log cabins, country cottages, town houses to larger modern homes.

The simple single control makes them very easy to operate and combustion performance is excellent from as low as 1.5kW. The cast-iron doors for the Inspire series are available with a traditional black painted surface, but you can add extra style to your stove by choosing one of HETAs nine modern enamel colours.

Front door can be enamelled.

Inspire 40/40H is a portrait stove suitable for installation into a fireplace or freestanding situation. A large cast iron door maximises the view of the fire creating a stunning impression in your home. A discreet single lever air control allows optimal combustion throughout the 2 – 6kW output range for tranquility and pleasure.

As an option, Inspire stoves can be mounted on a 32cm log store giving the stove a more prominent presence in the room. This convenient addition not only provides the option to store logs, but also enables the operation and re-fueling of the stove from a more com­fortable level.

Inspire models can be installed with either a top or rear flue outlet. The inlet provided can also be used to supply direct outside air for combustion. The stoves are covered by a five year warranty.

C-FOUR | CHARNWOOD

009/CFOUR

The C-four BLU is a new eco stove with clean burn technology and is available in all 8 Charnwood colours. It is made from plate steel, cast iron and ceramic glass and has the same beautiful design as the other C-four.

STAND OPTIONS

Standard Legs

High Legs

Store Stand

Features:

SIA eco design ready
Cleanburn airwash technology
Drop down throat plate enabling the chimney to be swept through the stove
DEFRA exempt model available for burning wood in smoke control areas

Options:

Reciprocating drop in grate for burning solid fuels
Flue boiler
Vertical rear flue adaptor
Rear heat shield
Store Stand
Choice of 8 colours

WOODTEC 5 EXTRA WIDE | C&J

7634

The Woodtec 5 draws attention to the very pleasant wood fire at its heart, high-quality and rich and beautiful design combined with powerful SIA Ecodesign. Performance ready to deliver Woodtec's unique and forcing allure

Clean lines of the beautifully profiled cast iron door and strong seam welded steel firebox blends perfectly into a large number of fireplace and interior scenes. Cutting-edge patented biomass burning technology is very intelligently integrated into a fascinating way of creating a warm ambience.

It's easy to operate with a technically advanced single air control and powerful air wash, each of the three wood burning models can be personalised with optional stand, log store and black or oak handles For total peace of mind all models are SIA Ecodesign Ready certified, DEFRA exempt for smoke control areas, HETAS approved, CE marked to harmonised standards and manufactured under ISO9001 and ISO14000 systems

Available Models include; Woodtec 5, Woodtec 5 Wide and Woodtec 5 Xtra Wide.