How To Install A Woodburner With A False Chimney Breast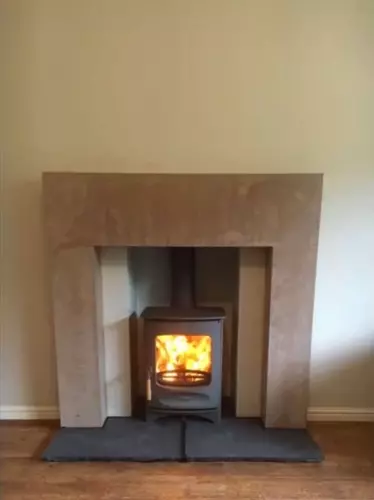 What can you do when you want a woodburner, but your fireplace just isn't wide enough to have one? This was the quandry that faced one of our customers recently, and yet here at Bradley Stoves Sussex we were able to provide the ideal solution to the problem.
Our customer had chosen the fantastic Charnwood C-four woodburner in gun metal to go in their lounge, but the existing opening could not be made wider. This is one of the areas where Bradley Stoves Sussex excels. Yes we are approved dealers for most stoves, and of course there isn't anything that we don't know about woodburners. However, knowing what stove is right for you, and how to install it (even when it seems impossible), is our specialism.
Steve O'Reilly, owner of Bradley Stoves explained how the job was undertaken:
"We set about making a false chimney breast to house the rear flue. We removed the plaster surrounding the existing opening to reveal the brickwork. Then we installed a new breast that was made in metal studwork and fire board to comply with current Building Regulations.
"The area was then plastered and a beautiful black Indian stone hearth fitted. We then were able to install the fantastic Charnwood C-four in gun metal with a rear flue.
"We always enjoy the challenge of making beautiful fireplaces for our customers, and often work closely with surveyors and architects to help them create fabulous spaces for their clients. Obviously we can always advise technically on any stove, but we pride ourselves in establishing a stove as the focal point of a room."
If you want a woodburner or gas stove installed, but are not sure that it will work in the area where you wish to fit in, then contact Bradley Stoves on 01403791808 and we will help you to realise your dream.
Comments