What to Give to the Man Who Has Everything This Christmas?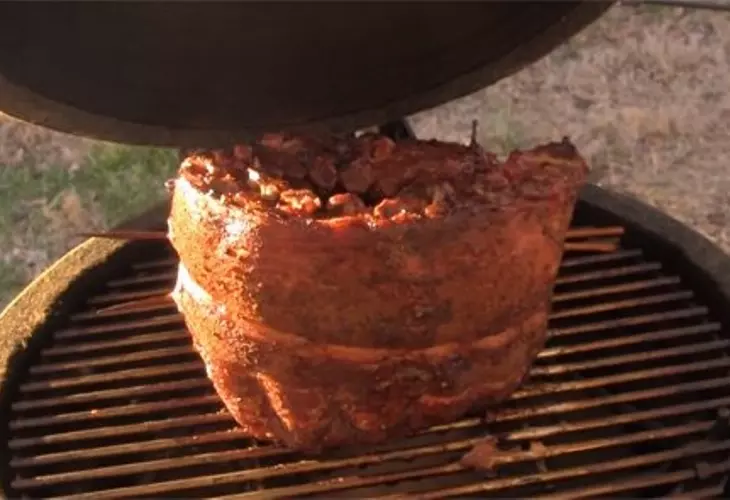 I don't know about you, but I have been staring at the internet for hours trying to find a present for my husband. I mean, what do you buy the man who has everything? Socks? Boxers? Smellies? There are unopened packet of these in his wardrobe from last Christmas and his birthday present "Chocolate Making for Beginners" was a complete disaster! Sitting for a morning in a room of post-menopausal women who found their raison d'être watching a demonstration of how to temper chocolate was more like a nightmare for him than fun. So I have made a note to myself "no more activity presents".
Groupon hasn't worked either. He has an account with Amazon Prime and so parcels arrive regularly with things that he needs/wants! I always seem to be one step behind with ideas, and of course he knows what he wants better than I do!
And yet, there is something that I think will give him hours of pleasure, and that is the Kamado Joe. Now why do I think this? Well it's because it isn't just a BBQ, no it is a highly sophisticated oven that requires thought and expertise to create culinary masterpieces on. Like most men he likes things that have a technical aspect, but gives the kerching when everything goes to plan!
There are a range of Kamado Joes and they are ideal for not only grilling and smoking, but for cooking pizza, bread, meat, lasagne, puddings, and in fact practically anything! As it acts like The Kamado Joe a wood-fired oven it can be used like a normal oven and with its ceramic shell it retains heat perfectly and can achieve temperatures of up to 400°C. What's more it can be used all year round, and so provides the ideal challenge for any budding chef to show their skills whatever the season, or weather!
And of course you don't have to be a man to use the grill! I could see myself using it too. It would be perfect for roasting a turkey, or ribs, or even baking bread, and it would be ideal for summer to cook for family and friends on.
So forget the hankies, ties and deodorant! The Kamado Joe is the solution this Christmas for the man who has everything! You can buy online now and tick another person off your list!
Comments