Improving heat flow from your woodburner with a stove fan!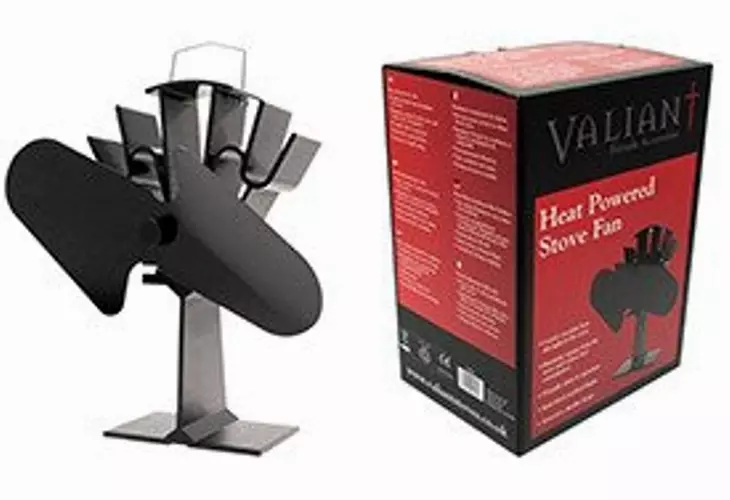 Get the most out of your woodburner this winter with the Valiant Heat Powered Stove Fan.

Why have a stove fan?

In the cold afternoons and evenings, it's wonderful to sit snug and warm with your wood-burning stove, but a great deal of precious heat can be lost as it rises towards the ceiling. A stove fan can dramatically improve the heat flow around your room by pushing that warm air back into the centre where it is most wanted. No more cold corners or scorching seats with the Valiant Heat Powered Stove Fan ensuring even heat distribution throughout the room.

A stove fan is a brilliant investment for reducing fuel consumption as you get more heat at sitting level for every log you burn. By spending as little as £82.80, you can instantly increase the efficiency of your stove.

The Valiant Heat Powered Stove Fan - 2 Blade

A good stove fan must be ninja like - operating in complete silence. Ok, it won't use any form of martial art, but the Valiant Stove Fan is far from intrusive, the gentle air currents from the two blades work silently and effectively without ruffling any unwanted feathers (figuratively speaking). The Valiant even comes in sleek satin black with anodised blades.

The Valiant is also a quality heat-powered stove fan, so it doesn't require any batteries or clumsy wires to run. Instead it uses the emitted heat from the stove itself to turn the blades; efficiency is inscribed into the Valiant - it will only turn on when there is fresh warm air to push into the room.

Here at Bradley Stoves Sussex we are committed to sourcing you the very best products and woodturner accessories. Check out more ingeniously useful gift ideas for woodburner enthusiasts and stove owners.
Comments