Pellet Boiler Stoves: Wood for Water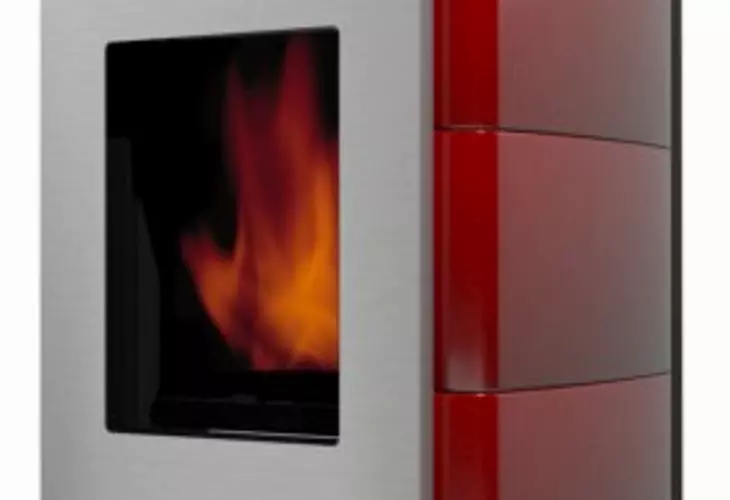 In the Mendip Stove range, the very latest in green energy and modern technology has been fused into a variety of clean-burning beauties. Here's our tour of the Mendip Pellet Stoves on Bradley Stoves Sussex.
Mendip Fuoco Wood Pellet Boiler Stoves 14kW/18kW
First up, the Fuoco pellet stoves. At over 92% efficiency, these stoves are hard to beat in hot water - but just to make things easier, the Fuocos come with an integrated water pump and 8 litre expansion tank to get you started.
There's no compromise on style either; the black and ivory model can be upgraded to a bold ceramic bordeaux, and the large front window makes the most of the flames.
One reason we especially like the Fuoco models is the way they'll keep burning for simply ages. One load in the 45kg hopper can last you a good 30 hours and the electronic display will let you program a system for a whole week. The Fuoco 14kW is only £3,600, though if that's not hot enough for you, the Fuoco 18kW is a bit more at £4,120.80. A worthy investment.
Etude Pellet Boiler Stove 14kW
The stately Etude Pellet Boiler Stove may not come in bordeaux red, but its space-age silver certainly fits the range of gizmos this stove has to offer. The stove is fully programmable to turn on and off, but it also comes with the option of remote text message control. So you're popping back from a long day out, you text your Etude stove in advance before you arrive, and viola, a warm house. Genius.
To make sure all this fancy stuff works, Mendip offer an optional UPS system to secure an electricity supply to the stove so it always lights when you need it to — not to mention the 45kg hopper to keep the fire going. The Etude is an unbelievable £3,372.12, which we think is an absolute bargain.
That's it for our tour this week, but for more efficient and intelligently designed stoves, check out our range of boiler and wood burning stoves.
Comments