AGA Ludlow Stove - An Affordable Woodburner from Bradley Stoves, Sussex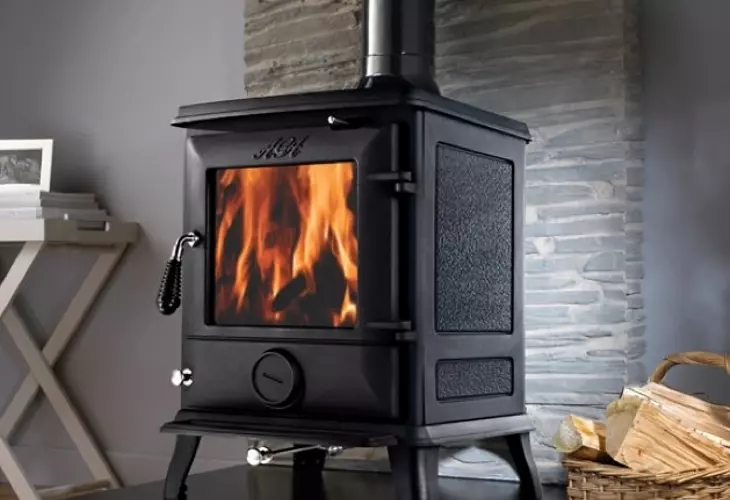 I don't know about you, but when I hear the word "AGA" I think of my Aunt's country kitchen with the kettle sizzling and bread baking. Of course that was some 30 years ago, but AGA are still manufacturing beautiful cookers as well as stunning wood and multi-fuel stoves.
It is times like these that I wished I worked for a clothing store. That's because when I see something that I really like I could buy it and add it to my collection. Sadly that is not so easy with a wood stove and yet the AGA Ludlow Stove is quite frankly gorgeous, and such a bargain at just over £735. Unfortunately my Woodwarm Fireview has pride of place, but the AGA Ludlow stove is calling to me, it's just there's nowhere to put it!
What I like about the Ludlow stove is not just the price (although that is attractive considering that the stove can output up to 9.9kW of heat), but I am also impressed by the aesthetics of the woodburner, with its clean lines and simple styling. The cast-iron panels of the Ludlow stove are individually moulded in a hand-finished cast. This allows AGA's skilled craftsmen to create the elegant curves and exquisite design so typical of AGA's products. Precision-cast and expertly finished by skilled craftsmen, the Ludlow stove is built to last and uses the latest technology to increase efficiency.
The AGA Ludlow Stove not only looks good, but can also be left to burn overnight so that you can be greeted by a wonderfully warm room, perfect in the current climate!
So if you would like to make me envious treat yourself to a Ludlow Stove and enjoy its superb craftmanship for many years to come.

Comments